HMFB/HIFB
Hign Frequency switch-mode rectifier draw style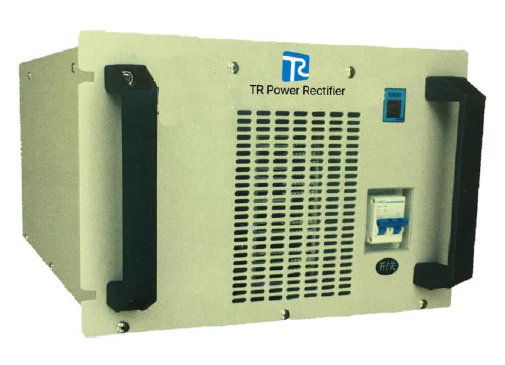 Technical Parameter

Product Specification

Features
Small size,Light weigh,Appearance beautiful
Control of high precision, ripple coefficient low
Efficiency, Power factor high, Energy saving
Regulator, Steady control mode
Over temperature, over load, over current protection circuit.
Available RS485 interface or Standard 4~20 mA, 0~10V, 0~5V Control signal
Increase the AH cumulative function, Time Control function
---
---
High Frequency switch-mode rectifier stand style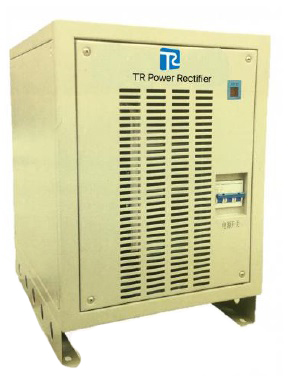 Technical Parameter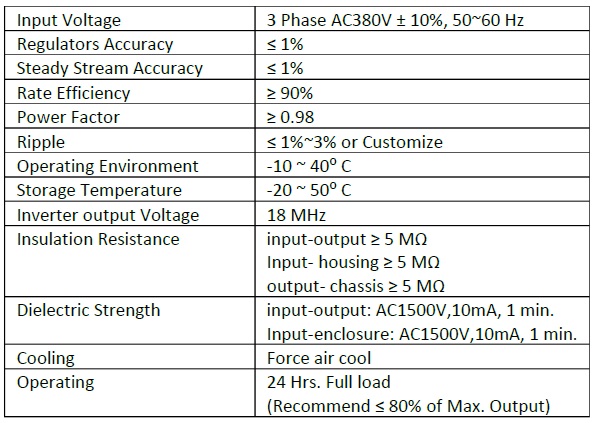 Product Specification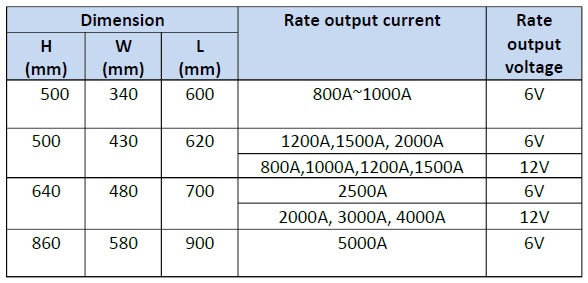 Features
Products beautiful appearance, reasonable structure, a variety of shape options.
high control accuracy, low ripple factor. Regulated, sready flow control mode.
witeout N-line switching power supply, greatly reducing the interference of the third harmonic, power factor greatly improved.
unique corrosin-resistant seal design, so that it can be placed in any position in the cylinder.
soft start, over voltage, overcurrent, phase, overheating and other protective measures.
RS485 interface can be provided or the standard 4~20MA, 0~10V 0~5V control signal. The internal circuit board has taken anti-salt and acidification of the three anti-glue, so that electronic components are not susceptible to environmental corrosion, durable products. Rated output voltage
Usage
PCB plating, metal surface GV, precious metal plating, battery industry
---
---
HIFB
High power air cooled high frequency switch-mode rectifier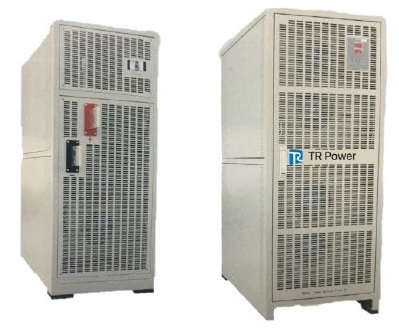 Technical Parameter
Product Specification

Features
Products beautiful appearance, reasonable structure,
the use of multi-module parallel mode group of the same module, replace the module, just the address code and the need to replace the module can be the same.
The module has a hot-swappable function that is to replace the module can be replaced in the case of non-stop, does not affect the user production.
The control of each module adopts the advanced RS485 network control system to control the high precision, because it is digital control, the control signal is no attenuation remote control up to 1.2KM,
Between the modules using automatic current sharing  technology, the external controller to set a certain current, the system will be evenly distributed to all the following unit modules, the flow control between the modules within the accuracy of less than 1%
All high-frequency switching power supply design can be used N+x redundant standby system, under normal circumstances, all modules are involved in the work unit, once one of the modules fail, the system automatically exit the fault unit to share the other modules failure Unit current, so that the total output voltage and current remain unchanged, while the fault module can be removed maintenance, greatly improving the reliability of the power supply.
Regulated, Steady flow control mode.
There are soft start, overvoltage, overcurrent, lack of phase, over heating and other protective measures.
RS485 full digital network control.
The internal circuit board taken anti-salt and acidification of the three anti-glue, So that electronic components are not susceptible to environmental corrosion, durable produts
Usage
PCB plating, metal surface GV, precious metal plating, battery industry
---
---
KGY
Oil cooled silicon controlled rectifier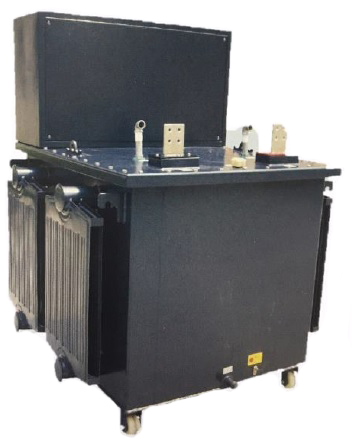 Technical Parameter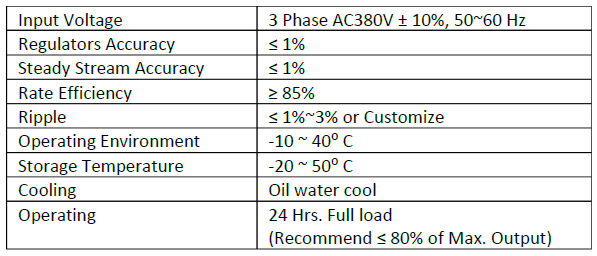 Product Specification
Rate output current: 0~20000 A
Rate output voltage: 0~100V
– Can be customized according to customer requirement
Featues
Fully sealed oil-immersed water-cooled, able to work in harsh environments.
Transformer and power components are oil-immersed to increasethe heat dissipation surface, so that the heating element cooling fast. Extend the life of the rectifier.
10#, 25# oil transformer, excellent insulation and thermal conductivity
Installation of heat sink outside the box, the cooling effect is better
The oil level can be displayed directly on the panel.
Regulated, steady flow control mode.
perfect protection: with over-voltage, over-current, overheating, lack of phase, water and short circuit protection.
can be manually adjusted, but also digital network control.
can be used to cool ordinary water, it is recommended to use deionized water.
Usage
Plastic Plating, mold, hardware and other hard chromium process, Metel surface treatment, electrolysis and other harsh environment
---
---
HMFB/HIFB
High Frequency switch-mode rectifier table style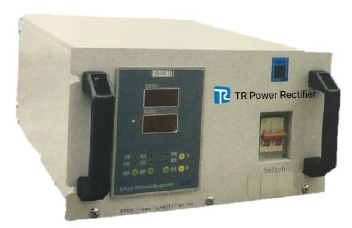 Technical Parameter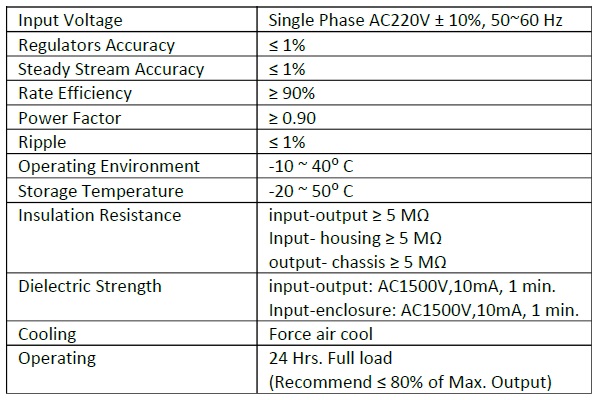 Product Specification
Features
Small size, Light weight, Appearance beautiful
Control of high precision, ripple coefficient low
Efficiency, Power factor high, Energy saving
Regulators, Steady control mode
Over temperature, over load, over current protection circuit.
Available RS485 interface or Standard 4~20mA, 0~10V, 0~5V Control signal
Increase the AH cumulative function, Time Control function