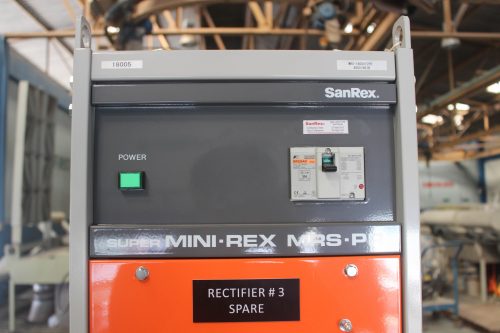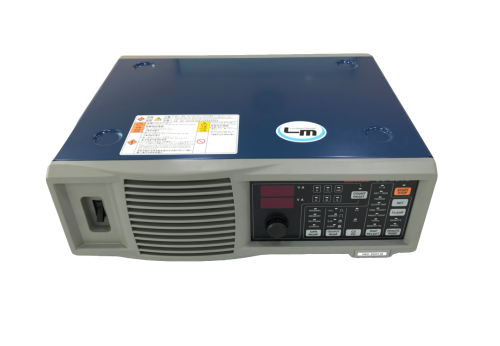 Superior model with sophisticated functions and environmental durability
Characteristic
Power source for metal plating of small capacity.
Selectable out put waveform mode
Features
Pulse mode operation with minimum 1 msec pulsation
GOLDWAVE (Free wave form) mode
High speed communication (RS-485)
Current integration function
Operation pattern memorizing
Characteristic
IGBT Inverter type power source for various plating
Features
Abundant Lineup.
Applicable to various input voltage for worldwide.
Function improvement by the digital technology.
New Design. Easy setting by jog dial on remote control pendant.
More durable against severe environment.
Defect diagnosis by abnormality indication and alarm function.
Optional function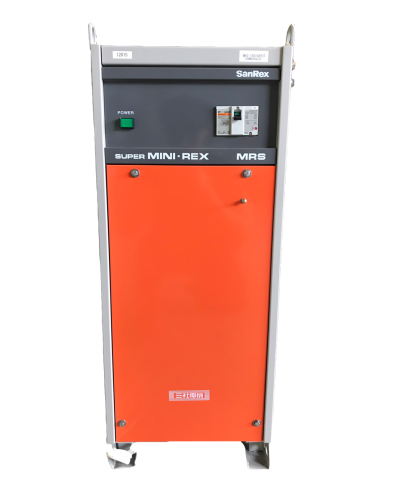 Features
Hight-quality and environment-proof
Environment-proof quality has been improved due to introducing a first-rate insulation type thyristor, epoxy-sealed special transformer, and tightly closed up control circuit-one of its key components.
Energy-saving type
The MRS series incorporates a large-capacity low-loss multi diode (500A) to simplify the internal makeup, resulting in saving energy.
Compact,light, and space-saving
SanRex unique cooling system produces an extremely ligtht compact product. The front dimension is reduced, therefore requiring less floor area and thus saving space. A unit can be mounted on another unit of the same size (up to 5,000A).
Complete protection functions
– The rectifier is protected by either of its built-in circuits; a current-limiting circuit that function under constant voltage operation or a voltage-limiting circuit that functions under constant current operation.
– The rectifier is protected against problems in the cooling system by a built-in abnor-mal temperature detector in case of a fan failure or the like.
– The fan stops when the rectifier is not running.
Efficient control functions
– Function for soft start
– Function for setting CV-CC changeover
– Function for setting lower limit of current
– Function for setting lower limit of voltage
– Function for setting constant current density
– Function for independently setting output voltage and output current (crossover control) optional.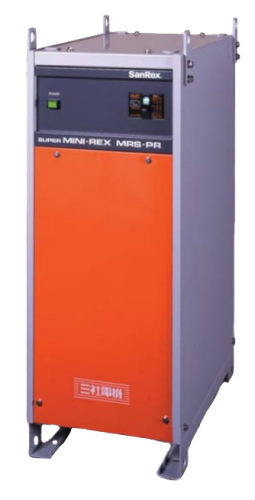 Characteristic
For electro decreasing chromium plating
Features
A highly reliable non-contact pole changing system
The current can be freely and smoothly adjusted either to forward operation or backward operation
Hight-quality and environment-proof
Energy-saving type
Compact, light, and space-saving
Complete protection functions
Efficient control functions
Characteristic
Power supply unit for noble metal pulse plating
Features
Digital output setting
Precise settings of constant voltage and constant current as well as well as ON/OFF time peri-ods have been made avallable by digital setting.
Operation mode


Ready for DC and pules operation.

Sealed and indirect cooling structure


increased resistance to environment and endurance.

Digital display function


Digital display of output voltage and current values.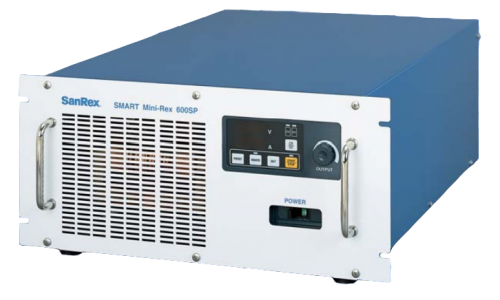 Characteristic
Rack mount type power supply for metal surface processing
Features
Output voltage 6V,
Output current 300/600/750/1000/1200/1500A
High accuracy
Equipped with digital voltage and current display as standard
Availability of control by external signals as standard
Remote controller Pendant (Option)
Application
Printed-wiring board plating
Semiconductor wafer surface treatment
Electronic parts electrode plating
Noble metal decorative plating
Characteristic
High-speed PR (positive-reverse changeover) Power supply for the PCB plating
Features
This machine is unit unit type which enables easily to mount on the horizontal plating line.
Equipped with dual output designed for simultaneous double-sided plating of PCB.
Downsizing and weight reducing
Centralized control with DeviceNet
Lineup: There are two types; 150A and 250A